Halloween is often enjoyable for kids and their families. For dogs, however, it can be a dangerous and scary time. Whether your furbaby joins you for trick-or-treating or stays home, all the strange-looking creatures wandering around can be very spooky. And don't forget about the treats. Many of the goodies that your children score on this night are not safe for pups.
By being well-informed about potential dangers for dogs, you can take measures to keep your pet safe. Here are eight tips to help you protect your furry friend during the Halloween festivities:
Keep the Kid's Treats Away From Fido
Most of the trick-or-treat goodies that kids score on Halloween are foods dogs can't eat. Candy options often contain chocolate, and some include the artificial sweetener xylitol. Both substances are poisonous for dogs. There are other foods dogs shouldn't eat on Halloween, which include raisins, grapes, and currants. These fruits have chemicals that can cause kidney failure in dogs.  If you have a bowl of goodies, keep it out of reach of your four-footed helper. And don't forget to stash your kid's loot in a safe place.
Have Pup-Safe Goodies on Hand For Your Furbaby
There's no reason your pooch should feel deprived during the Halloween celebration. Keep some healthy treats on hand as a reward for your dog. Prepare some harvest season items like pumpkin biscuits, apple slices, or carrot chips. You can even try your hand at making a few homemade treats just for Fido.
Minimize Your Pal's Stress
Halloween night means extra activity and chaos as people keep coming to the door. When you open your entryway to different visitors, many of them will be wearing unusual costumes.
These disguises could scare your furry friend. Even a social animal may feel anxious about the disruptions to their normal routine. Keep your dog secure and away from the door. Consider putting them in their crate for their safety and that of your guests. You can also check with your veterinarian about using some CBD oil for dogs  or treats as a natural remedy for anxiety.
Use a Pet-Safe Costume if You Bring Fido Trick-or-Treating
Some people enjoy including a four-footed friend in their trick-or-treating. If you plan to bring your pup with you, help him out by following some simple costume safety practices.
The ASPCA recommends that you only use a dog-costume if your pet seems to like it. Try out any ensemble before the big night to see how it fits and what Fido thinks.
Make sure nothing hinders your pup's ability to see or walk. It's best to avoid putting a mask on your pet.
Check for any parts that your pooch might be able to chew off and create a choking hazard. You'll also want to make sure that there are no dragging or dangling items that can trip up your special pal.
Put some reflective tape on the costume or another self-illuminating item to make your furbaby more visible to passing cars.
Make sure the material is lightweight, breathable, and non-flammable for both safety and comfort.
With proper precautions, you can help make this outing a positive experience for your four-footed friend.
Use Discretion If you Dye Your Dog's Fur
Dying hair is in, but is it OK to color your furbaby's hair? There are several reasons to avoid this practice with Fido. However, if you have your heart set on painting a skeleton on your black dog or changing his color some other way, use discretion.
Make sure any paint or dye is non-toxic. Check the ingredients and do some research to confirm it's not just ok for humans but also safe for pets.
Keep coloring agents away from the eyes and mouth.
Observe your pal for any allergic reactions to the paint.
Apply in stages and watch for signs of stress.
Don't use food-based dyes. They could attract predators and put your pooch at risk of an attack.
Have a Current ID on Your Pup
Whether you bring your pal with you for trick-or-treating or keep them at home, make sure they have an updated ID. So much is happening on Halloween night, and it's easy for man's best friend to panic. If Fido gets away from you, you're more likely to get him back if he's sporting proper identification.
Keep Your Pets Away From Halloween Decorations
Even though pumpkin is edible for your furbaby, the squash that you use for Halloween can be dangerous. This also goes for other harvest decorations like corn stalks. Yes, small quantities are OK, but dogs that consume large chunks could choke or become sick if these foods aren't a normal part of their diet. What's more, when you keep your plant adornments outside, they often get moldy. Some of these growths, called mycotoxins, can cause serious illnesses or death.
Practicing safe decorating goes beyond food-related adornments. Halloween trimmings like spiderwebs, scarecrows, and jack-o-lanterns can be scary and hazardous for your furry friend. Place items like cobwebs out of reach. Locate any cables discretely to avoid electrical shock. If you plan to use a candle in your carved masterpiece, make sure the squash is placed where Fido won't knock it over with his tail.
Beware of Stranger Danger
Sadly, there are some people with malicious plans on Halloween. Keep your pal safe from pranksters and other strangers that might want to steal our harm animals. Unless you're taking them trick-or-treating, keep your canine companions inside after dark. When they need to go potty, accompany them outside. If you take Fido out trick-or-treating with you, securely attach the leash to his harness or collar.
When making your plans for Halloween, remember to think about your furbaby. Taking appropriate precautions might be the difference between this holiday being enjoyable or a nightmare for Fido.
About the author: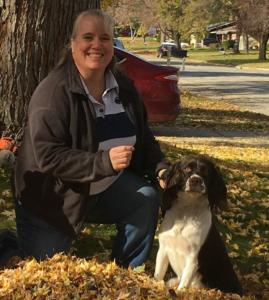 Dr. Guise, a veterinarian advisor for FluentWoof . After working in private practice in Wisconsin for two years, she joined the USDA as a Veterinary Medical Officer. In 2011, Libby came home to focus on raising and teaching her adoptive daughter. She lives in Wisconsin with her daughter, husband, and two furbabies: Charis, a lab-mix rescue pup, and Chesed, a Springer Spaniel.