Pet Scoop Community Services
The fact is, 50-75% of dog owners do not regularly pick up after their pets. Pet Scoop can help manage the problem & keep your community clean. We offer two programs to solve the dog waste dilemma!
We Offer Two Options to Help Communities Manage the Dog Waste Dilemma!
PooPrints – DNA Dog Waste Management Program
PooPrints is a highly effective, proactive approach to dog waste management using DNA!
PooPrints Is a DNA Pet Waste Management Program

Property Managers report between 75 to 100% reduction in pet waste

Customers highly recommend PooPrints as a highly effective, low-cost solution
Commercial Scooping Service & Pet Station Maintenance
Our team of professional poop scooping technicians will leave your community renewed and free of dog waste, GUARANTEED!
Pick up all dog waste from common areas

Restock the stations with PET SCOOP Bags as needed

Empty the receptacle and replace with a new trash liner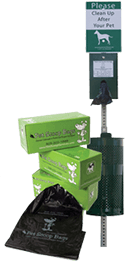 Are You a Current Client?
If you are a current client and would like to order more supplies, click here and we'll get those to you right away
Pet Scoop Can Help Manage the Problem & Keep Your Community Clean
More than 25 years of experience cleaning Apartments, Condos, Parks and HOAs.
Dedicated Commercial Team of technicians specializing in managed communities
Locally Owned and Operated
Why choose PET SCOOP for your property?
Dog Waste Cleanup Schedules to Fit Your Budget
Property Reports Left at Each Visit
Mobile Scheduling for Job Confirmation
Ongoing Quality Checks Performed by Supervisors
Special Cleanups for Inspections and Corporate Visits
Litter & Trash Pick-up (additional cost)
Glass and Dead Animal Pick-up (included NO additional cost)
Dedicated Team of Commercial Technicians
Station Maintenance Programs Available
High Limits of Liability and Work Comp Insurance
Help Free Maintenance Staff for More Important Work Orders
Notification of Problem Areas or Concerns
I have been a customer of Pet Scoop for several years now. I have used them at several of my properties and they have done a tremendous job, consistently. I would highly recommend their services!
Also Available Outside The Denver Metro Area
PooPrints & Commercial Scooping by Pet Scoop are available along the entire Front Range including the Denver Metro area. We now service the entire Front Range of Colorado from Fort Collins to Colorado Springs and all areas in between like:
Loveland, Greeley, Boulder, Longmont, All Denver Metro areas, Castle Rock and Monument.
Request PooPrints and Commercial Products